Our Vision... Your Success is Our Success...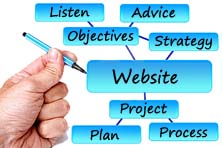 Our actions demonstrate our business values!
StrategicWebs is your complete resource for your Domain and eMail hosting, Website services, QuickBooks consulting and training, Project Management consulting, and Process Improvement consulting.

We have an outstanding reputation for designing professional web sites, providing exceptional customer services, and for meeting the strategic needs of our clients while offering affordable prices to individuals and small businesses.

StrategicWebs is dedicated to our client's success on the web, providing high quality and professionally designed websites which are attractive, effective, and aligned with our client's business strategy. We are in business to build long term, lasting relationships with our clients, providing services when needed, and backing our services with our commitment to ethical business practices and our highest standards for Quality and Customer Support.

StrategicWebs guides clients through essential decisions such as where to spend their website development dollars to be aligned with their business strategy and marketing goals. StrategicWebs will not falter in the pursuit of our client's success on the web. By establishing our client's success, we establish our success.